The Thinking Elixir Podcast
Welcome to the Thinking Elixir Podcast! The show has weekly episodes where we talk about the Elixir programming language and community around it.
Whether you are already experienced with Elixir or just exploring the language, this show is created with you in mind. We discuss community news, Functional Programming, transitioning from OOP, coding conventions, and more.
Guests visit the show to help challenge our assumptions, learn about new developments and grow in the process.
Subscribe to join me on this journey!
Learning or Teaching Elixir
Subscribe to
Thinking Elixir Podcast
Or subscribe with your favorite app by using the address below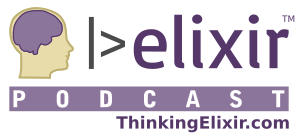 Huge batch of new then we talk with Ricardo Garcia Vega about how he paired a Phoenix application with no database Repo to an Airtable backend to quickly solve a problem but without compromising on speed or reliability. Includes great discussion of ETS tables, GenServers for syncing a caching, LiveView for live updates, links to great resources, a github repo for doing it yourself and much more!
Show Notes online – https://thinkingelixir.com/podcast-episodes/014-liveview-and-airtable-with-ricardo-garcia-vega/
Podcast: Download